Dean looked over at me and I could see the wrinkles around his eyes as he smiled and said, "I just can't believe it.  How is this happening?" We were driving Uncle Gary's big truck and were carrying 5 doors in the back.  5 doors, mind you, not 1, not 2, but 5 doors for the church.  And Dean was still commenting about how things were unfolding and how things were working together.  But to really understand….to really grasp what's happening, I will need to take you back to the beginning.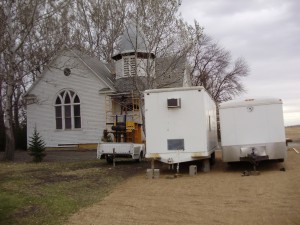 The first day that I arrived at Frank Lake Covenant Church, I noticed that the front doors were not only worn out, but someone had tried to break into the church by pounding against the doorknobs.  It was sad to see the chipped wood and my heart went out to the sweet little building.  Who would try to break in and why? 
When the church arrived here at the grove, I'd already begun to plan and pray about new doors.  Not just for the front, but to replace the 1960's plywood ones that were once used to "update" the church.  Remember, I like 1900-1950 (or older), so I was looking for something more original to the photos I had of the church from early 1900's. 
"Praying for doors?" people would ask me, and then roll their eyes.  Yes, I have been praying for doors.  But you see, just any door wouldn't work.  The new doors seem cheap and cost prohibitive, so when Dean walked in one day while I was calling a list of 35 antique stores about doors, he rolled his eyes and said, "You're never going to find anything that fits.  That sanctuary door set is like 96" tall.  We'll have to special order."  Well, there is no money for that, and this is as much God's project as it is Dean's, mine and Best Life's.  So…pray for doors I did….and call every antique store within a two hour radius, I did. 
On my tenth phone call, a man from Dassel told me that he had doors, and he had lots of them.  I took my trusty Stanley tape measure and threw it in my car with some fabulous Christmas music, yes, I said that, and headed to Dassel. 
Upon arrival, I whispered to God, "Remember…big, heavy, old and not too dark…oh, and affordable!"  I greeted the kind man, looked through doors and then he said, "Here are the ones that are so tall, I don't think anyone could ever use those."  And yes…..it was the exact size of the sanctuary doors. 
They were lovely.  They were old, heavy, matching and medium in color.  Check, check, check.  Now, the price.  "$50.00 for each."  I wanted to weep.  I had just received a phone call from the lumber company not too far from the church with a quote of $1,000.00 for a set and said, "No, but thank you." 
I looked through the other doors and there they were….matching, lovely, heavy, old, and a medium stained color.  "$50.00 each," the man said.  Why should I be astonished? 
Why should I be surprised?  God was with us, and He is invested in Frank Lake Covenant with me. 
Why wouldn't He be?  I remembered again….. 
Months ago, when dear Marie Johnson, my sweet friend (who, along with her husband Dennis, sold me the church) handed me pages of "history" of Frank Lake Covenant, I read it and was elated to find out that people would travel upwards to 70 miles to go to church because of the "outpouring of the Holy Spirit" and the "revival" that was taking place there, in rural Murdock, MN.  Have you ever been to Murdock?  It's tiny and you drive right through it and wonder….was that a town?  But God is God, and big city….small town….middle of nowhere….God is there and He does His work where, when and how He wants, with whoever is able and willing to serve.   God has been behind this church/building/body, since its start up in 1877, why would He abandon it now?  And doors….well, that's important to God, isn't it?  It's the way we walk in and walk out.  An open door is the beginning of something, isn't it? 
When Dean and I arrived yesterday to pick up the doors, Brenda, the kind woman whose husband had showed me the doors, told Deano that there was one really wide door.  My husband's eyes almost popped out of his head.  "How big?" he asked her.  She showed him a 36" door that was…you guessed it…heavy, oak, and the exact size that we needed for the bathroom for handicapped accessibility.  "You can have that one for free," she said.  
As we drove home now, Dean's words echoed in my head, "Why is this happening?" he asked.  "Why not!" I answered.  "God is God and I've been praying specifically for doors."   "Why would God care about doors?"  he asked.  "Because He cares about us.  Remember scripture tells us He knows the numbers of the hairs on your head.  Why not help lead us to affordable doors?" I answered.  And I encouraged my husband that not only should we be specific in our prayers, but we must believe….after all God tells us "Without faith it's impossible to please Him." 
While driving that last six miles to the farm, I looked up at the sky and just said out loud over and over, "Thank you, God.  Thank you!" 
Today, the doors are unloaded and in the church.  Al's, (the carpenter) brother is coming over to look at them and install them.  A big project, but he enjoys that kind of work. 
God is in charge of the doors in this life.  Your doors…..my doors…and apparently..Frank Lake Covenant's doors.  I feel so grateful.  God's in this with us.
Esther 2: 2-4, 15  "O Lord, I see how sovereignly You set the stage for Your will to be done.  You humble the proud and exalt the humble.  You open doors and call us to walk through them into the center of Your plans for us.  Then You give us free will to follow You or to turn away.  Today I choose to embrace Your will for me, to walk through the doors You open and to cooperate with the plans You have laid, plans to prosper and not to harm me, plans to give me a future and a hope.  My life is in Your Hands.  Jer. 29:11  The Worship Bible.