Christmastime~The Baby
By:  Kathy A. Weckwerth
I can recall every moment of the deliveries of my three girls.  The first two were horrific; the last with Jenessa was quick and easy.  But I know this …  pain is pain and the delivery of any child is one filled with pain, and ends with joy.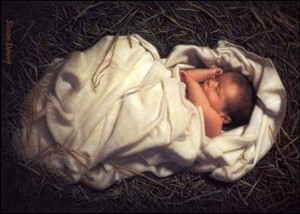 As we have been preparing for Christmas, we think about  the storyline of Jesus' parents, Mary and Joseph, traveling from Judea to Bethlehem.  A 70 mile trek (took about 3-4 days on foot),  and how they end up delivering their blessed child within a manger.  The King of Kings and Lord of Lords is delivered in a stable among the common animals.  Sometimes, it's hard for me to grasp.
Dean and I live across the road from a farmer who has a lot of cows.  Sometimes, on a still night, I can look up at the stars and think how beautiful the night is, until I am actually brought out of my trance by the ever-loud mooing of the neighborhood cattle.  It can kind of be annoying … and very loud.  To think that animals were in that spot that night as the baby is born is hard for me to conceive.
Today's doctors, in their pristine white coats with their antibiotics and sterile equipment, might cringe to think that a woman is birthing her child, God's only begotten, on the hay of a barn.
Just two days ago, I was at church, picking the straw out of the carpet, while I sneezed, wheezed, and itched, and tried to get all of it into a big black garbage bag, only to find a bunch of it up my sleeve when I got home.
Again, I'm drawn to a woman who is delivering this Baby into this setting.  And yet we realize in no uncertain terms, He deserved the best castle, the most sterile hospital room, and a bunch of media reporting His arrival.
But instead, the setting of His birth is the everyday life of this world.  It is not sterile; it is scratchy, smelly and unpleasant.  And the media has been replaced with beautiful bright shining angels, announcing to the lowest of the lowly that a Christ, a Savior is born.
  Come and see Him, in the manger!
This child left His beautiful world, a world of gold streets, of mansions, of perfection and no sadness.  He left His family and all He knew, to be here, born among us, to save us from our sins.
Born to a sweet virgin mother, and a kind carpenter-dad, who probably wondered how he could possibly be a good dad to the Son of God, the only Child of God.  Good grief!  There isn't a day that goes by that I don't think when in my parenting mode, now why did I do that?  Why did I say that?  I should have been a better mom.  But, it's Lexi, Chan and Ness … it's not Jesus I'm trying to parent.
I wonder if Jesus cried that night.  I wonder if He slept.  I wonder if when the shepherds saw Him, if that beautiful glorious star shone down on Him, illuminating the gentle face of a Baby King.
I wonder if the cows mooed loudly and scared Him.  I wonder if His mother had food, or if her body ached laying on itchy straw.  I wonder if Joseph felt protective.  And then it always hits me … I wonder why He did it?
And the words of scripture come back to me:
"For God so loved the world, that He gave His only begotten Son, that whosoever believes in Him, should not perish but have everlasting life." Jn. 3:16
Salvation came to the world.  The hope for us all.
In the most wonderful celebration of the year … we thank God for what He's done.
Merry Christmas, from all of us at Best Life Ministries.