If you're anything like me, you get discouraged.  The days here in Minnesota have been dark, cold, and miserable.  There has been more snow than I ever remember (I say that every year) and it is April 1st, with no spring in sight!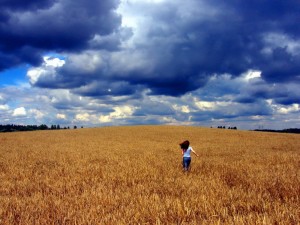 But I'm not talking about the weather.  I'm talking about those feelings that come and envelope you, very often, when you don't even realize that they're sneaking up on you. 
Discouragement is an everyday emotion.  It can come in many forms.  It looks like the black cloud that hangs over you when you get up on a sunny bright day, and can't seem to figure out why you have the job you have.  Or perhaps it shows up on a cool wintry afternoon and sneaks into the corners of your mind by asking the question why do you live where you live, or why don't you have the right friends, or a baby, or a spouse, or a talent, or a family that is whole, a marriage that is strong, a church that fits your personality, or a perfect life. 
I'm sure that you've experience discouragement because it's a part of life. A part of our lives.   We hope for things that don't happen.  We pray for things that God isn't answering.  We believe that we are down and out and there is no answer in sight. 
King David experienced many days of discouragement.  His wife made fun of him for being a worship-outloud kind of guy, King Saul was filled with Crazy-Land jealousy and control towards David and chased him down, and David decided to have an affair with a lovely woman who was married, all the while impregnating her and then watching that child die soon after birth. 
God had promised David something really big.  He promised David that his kingdom would go on and on.  He promised that his family would be the one that would carry on from generation to generation.  And yet, David sees darkness.  He sees winter days with no spring. He sees a tough job, his best friend has died, people make fun of him, he's stolen someone's wife and then had that husband killed, he now has a broken family, a difficult marriage, and things aren't looking that great. 
This is where I insert my famous Kathy Weckwerth words … "The End."  You see, whenever my mother is watching a sad story with me, I developed a horrible habit of stopping before the show is resolved, and I say to her, "That's it, Mom.  I'm sorry.  That's the end."  
My mother always replies very naively, "What? Well, that wasn't a very good program!"  
Always.  Always.  Always.  She responds like this, and I always say, "No, Mom, it's not over."But the truth is, there usually is some happy ending and things get worked out in the end.  
Discouragement, anger, resentment, fear, and unhappiness, are all emotions.  They are the garments that hang in the closet of who you are and they are just that … emotions. 
How we deal with discouragement is the key to any problem.  How we look to God, or don't look to Him, for answers is the solution.  And how we pull discouragement out like an old worn sweatshirt and wear it on a dark day, or how we will refuse to succumb to its overt enveloping, will be what makes or breaks us. 
Discouragement is a feeling.  It's what happens when we don't think things are right.  It's what comes in when we're not sure we can do something, be somewhere, or feel the right way.  But it's a feeling. 
Scripture tells us in 1 Samuel 30:6, David strengthened himself with trust in His God.  And in Psalm 34:13,17,18  The eyes of the Lord are on the righteous and his ears are attentive to their cry.  The Lord is close to the brokenhearted and saves those who are crushed in spirit.  A righteous man may have many troubles, but the Lord delivers him from them all … 
Discouragement is going to come and try to visit us.  It wants to take up permanent residency in the closet of your heart.  It's just how life is and how we're made up as humans.  But here's the deal … you don't have to take it off the hanger and wear it day after day. 
The End.  
No … not yet…