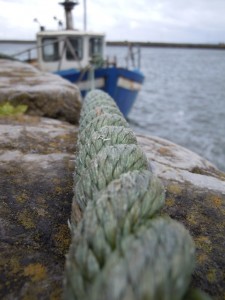 Mark 4:39 (NKJV) "Then He arose and rebuked the wind, and said to the sea, "Peace, be still!" And the wind ceased and there was a great calm."
Have you ever been outside when the winds and the rain begin to instill in you a desperate fear?  Last night, while driving home from a nearby city, my youngest daughter, Jenessa and I, were completely aware of the strong gusts of wind that were pushing our car back and forth.  It's been a long time since I've felt afraid of the weather, and with one sound shove (after a semi drove by), the wind was so fierce that my front window was jarred open a bit.  Jenessa and I both let out a huge, "Oh!" and I actually felt afraid!
I'm sure that's nothing compared to storms that hit much of our United States, and as Minne-snow-tons … we don't experience the tumultuous winds, rains, tornados, and hurricanes.   Centrally located, we just receive the bountiful amounts of snow.
But last night, while gripping the steering wheel tightly, I felt an inner turmoil wondering what would happen next.  Would we be safe, would the wind continue to create fear … I wondered?
And then it hit me.  I remembered the disciples in the book of Mark,  and said to Jenessa, this must be how they felt while out on the boat, in the middle of a lot of turmoil and bad weather, feeling so very fearful.  Do you remember the story?
Mk. 4:35 On the same day, when evening had come, He said to them, "Let us cross over to the other side." 36 Now when they had left the multitude, they took Him along in the boat as He was. And other little boats were also with Him. 37 And a great windstorm arose, and the waves beat into the boat, so that it was already filling. 38 But He was in the stern, asleep on a pillow. And they awoke Him and said to Him, "Teacher, do You not care that we are perishing?"
39 Then He arose and rebuked the wind, and said to the sea, "Peace, be still!" And the wind ceased and there was a great calm. 40 But He said to them, "Why are you so fearful? How is it that you have no faith?" 41 And they feared exceedingly, and said to one another, "Who can this be, that even the wind and the sea obey Him!"
Jesus was not afraid.  Jesus is Son of God … the Creator of the winds, the rain, and the sea itself. 
While the disciples are fretting and completely scared, their Savior is in the same boat right next to them … all they have to do is CALL ON HIM. 
They are fearful … He is faithful.  They are scared … He is in control.  They are stressed out … He is calm.  Why?  Because God is in control of the Sea of our Lives.
Are you in a place today where you feel like you are in a small boat in the middle of the Sea of Life?  Are the winds coming up against you so hard that you aren't sure where to turn?  Do you feel like you are going to be swallowed up with trials, financial burdens, health issues, job issues, friendship issues?  Do you feel like the disciples where you want to shout at Jesus and say, "Don't you care that I'm drowning!"
Jesus does care.  He cares so much about you that He died for your sins.  He is right there with you.  He's in the boat.  He's traveling on the same sea right next to you.  Call on His name.  He will quiet the storm of your life.
Just remember … Jesus is the Creator of the sea … and the life preserver of your soul.  You can count on Him.  Rest assured. 
****photo provided by Best Life's photographer, Joshua Garland