There it stands … the beautiful church in our grove.  Every day when I push past the big old doors, and walk inside, I throw my hands up in praise and say, "Hello, Frank Lake Church, hello, God!" and I begin my work, whatever it is for that day.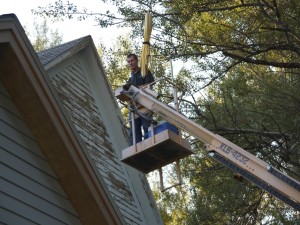 The inside stays cool and inviting, and over the past year, I have shared this same space with Farmer Dean, Uncle Gary, carpenters, electricians, plumbers, men's ministry volunteers, women's conference attendees, Bible studies, pastors, strangers that just stop by, old friends who loved the church, and now … the painter. 
Our painter's name is Gary.  Gary is a friend of ours from a neighboring church.  Gary is exceptionally particular and painstakingly meticulous about his work.  We love that about Gary!  And so every time I walk over now, there are paint chips flying down to a large sheet, capturing each one and holding it captive. 
I'm not sure when Frank Lake Covenant was last painted, but it was in need of some painting now.  There were many places where the raw wood was showing through, and although it is sweet, it will look so much better. 
Last year, before we moved the steeple back onto the church (after the move of the church building to our location), Farmer Dean fussed and fretted the whole way to church.  What would we do?  They were moving the steeple back onto the building and it was rusty in spots and in need of paint!  We prayed together and then, as we found our way into the pews at church, turned to meet and greet, while a kind face held out a hand and said, "Hi, I'd like to come over and paint your steeple this week.  Would that be okay?"  
As a weepy, emotional woman, I began to tear up and my husband's mouth fell open.  God had done it again … answered our crazy prayers and provided for our needs (and fast!).
 That was last year and now we're at this year.  It was time to paint.  The neighborhood and Bible study friends chatted and prayed and decided to donate to have Gary come out and paint the entire building.  
Back when Frank Lake Covenant stood tall on the grounds down the road from Frank Lake and across from cornfields and in front of gravestones, it was an eyeful of beauty!  The open countryside with large pine trees bordering stood tall and protective around the building, and the wide open spaces of nature around it, made it so very picturesque. 
It's a funny thing about the church in that; I am just a plain and simple soul, so I connect with the plain and simple exterior and interior.
  When recently I was able to go to an old church auction and see the inside of that 1900's church, it was fancy.  Large frilly windows with stain glassed stories arrayed the walls, fancy woodwork and huge elaborate organ pipes were pinned to yet another wall, and ornate podiums stood ready to pronounce the Word, at the front of the church.  And yet, it did not appeal to me. 
Sure, I purchased one of their stripped down podiums and bought their old red chairs, but the building did not call out to me.  It is unlike my own church, now sweetly perched in the grove, which calls to me frequently.  
On days when I feel the pressure of my life, I hear it calling to me, "Come and pray."  Or when I feel a lack of creativity, I hear it calling, "Sit down and play the piano."  Or on days when I know I need to study God's word in preparation for our upcoming Bible studies, it calls, "Come over and read the Word."  It's welcoming.  It's inviting. 
When my nineteen year old, down syndrome nephew stopped in one day, he sat down in a pew, took a deep sigh and said, " It's so peaceful here."  I believe the presence of God, the worship of the past, and the hope of the future all reside within the walls and windows of this building. 
And now … it is over halfway done with Gary working diligently to scrape the old paint, and it will have a new facelift. 
Once again, I am thankful, grateful, and reminded of the goodness of God and how faithful He is, as I read these words He gave to me 1.5 years ago (before we found the church): 
"Your people will rebuild the ancient ruins and will raise up the age-old foundations; you will be called Repairer of Broken Walls, Restorer of Streets with Dwellings."  Isaiah 58:12 
Look at you, you old beautiful building.  Plain.  Tall.  Welcoming.  Beautiful.  And … freshly painted.