I don't know about you, but I've been feeling like I've been in a real-live Kansas tornado.  You know the kind I mean, where your life is so busy, so hectic, and you're racing and running so fast that you feel like the world has sucked you in like a big vacuum and now you're being twirled and tossed about.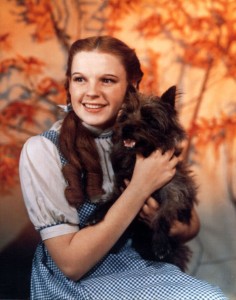 My friend Kathleen calls it a "world wind" and I love that description!  It's this life, isn't it?  Filled with jobs, family, friends, events, things to do, places to go, people to see, and when we try to cram everything into a 24 hour day, along with sleeping and eating, well, it doesn't always come out neat and organized.  No, in all actuality, it frequently comes out spinning, twirling and wild, like a crazy tornado. 
When I was reviewing my feeling of depletion with my friend and team member, Kathleen, as we talked, she compared it to the Wizard of Oz.  Remember when Dorothy is in her house as it's twirling about and she and Toto are sitting on the bed watching the world flying by, and there's nothing they can do but watch?  And then, boom … the house hits the ground, lands with a thud and she walks out with Toto in arm, only to realize what's just happened …a tornado has taken them, thoroughly thrown them to and fro, and they have now landed firmly in a foreign land.  That's how I've been feeling. 
Sometimes I forget to stop and look around.  I'm so busy looking ahead, that I forget to look behind and see where I've been, and I don't take time to become aware of where I am for the present.  
One thing I learned in life is that looking behind for too long makes us depressed, and looking ahead for too long makes us anxious.  But soaking in the present, well, that brings us gratitude.  I've been forgetting that.  
so busy sitting on the edge of the bed watching the "world-wind" go by, that I lost my focus on the good things of God.  I forgot about all that God has done for me and all that He is going to do because I've let myself become too engrossed with the busyness of everyday life. 
Does this sound like you?  Are you feeling that stress level and wondering how to make the house land so you can get free and get out of the tornado? 
I'm thinking this today …I'm thinking that some basic steps for my life are in order.  Here's what I am going to work on: 
 Getting 8 hours of sleep. (I try to go on 6 …it's not working)
 Eating healthier and exercising (I'm looking forward to walking when the snow melts!)
Gently telling the world …. "no." (this will be a challenge!)
Letting go of some of the big expectations I have for myself to do it all (this will be a relief!)
Leaning harder into God, His Word, times of prayer and times of worship. (this will be wonderful) 
This week, I'm committing to pull myself out of the tornado, out of the world wind of life, and I'm landing on my own two feet ….with or without Toto.  It's time to get out there and stop spinning and twirling.  It's time to get back on the path, although mine looks like gravel and not a yellow brick road.  Join me, won't you? 
Romans 15:13  May the God of hope fill you with all joy and peace in believing, so that by the power of the Holy Spirit you may abound in hope.