"He is jealous for me. Loves like a hurricane, I am a tree. Bending beneath the weight of His wind and mercy….I realize just how beautiful You are and how great Your affections are for me."    – John Mark McMillan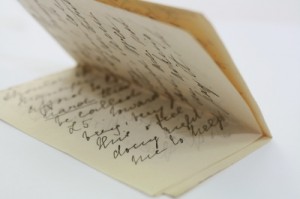 I looked out at the snow through the frosty windows. It was wildly blowing and I just resigned to be inside today. I brewed myself a big pot of coffee, put on my favorite old grey sweater and sat close to the fireplace. Today would be the day … I could feel it. I would read the letters.
I gently pulled the ribbon that was tied neatly around the stack of folded papers. My Aunt Mary had sent them to me, and my emotions were heavy, as I saw the handwriting across the top addressing, "My darling girl." I had put this day off for so long.
The letters, neatly stored these some 86 years, once owned by my grandmother, were written by a man I'd never known, but I had known his son … and certainly loved him … my sweet Daddy. As I looked at the top heading, I read "Moorhead, Minnesota, May 19, 1926.
When placed in front of the realization of where you came from and who you came from, it can be emotional. You wonder who they were and what were they like. Were they kind? Were they faith-filled? Did they love?
I began to read and was thrust back in time as I could see the face of this man, from the pictures I had memorized, and could almost see him writing his beloved little Thelma. He had traveled with his brother, Walt, to the unknown worlds of a neighboring town, trying to get work.
"My dearest sweetheart," one letter begins "… I want you with me and didn't go to sleep for a long time last night. I will get ready for you … by next week, if the Lord is willing."  The letters continue to tell how his work is going and he says, "Well, sweetheart, I am real lonesome."  There is a baseball game but "that costs fifty cents which is too much, so we (he and his brother) don't go. Wish you were here to go. Your lonesome boy, Herbert."
The passion and love that my grandfather had for my grandmother, was the same passion and love that I saw my father have for my mother. The kind of love that makes you feel safe and secure … a love that loves fiercely and mightily … a love that accepts, encourages, and fosters relationship.
My grandfather always used the same words as my dad …  "If the Lord is willing," trusting that God really is in charge of our journey.
Love can move in a powerful way … It can stir the heart of the hurt and hardened, it can wound the pride of the mighty. Love can stand against the toughest circumstances and bind those involved, closer together.
The example of the letter-writer, my grandfather, Herbert Youmans, was someone who loved like a hurricane … it was a strong force.  And that love reminds me of a love that we will never fully understand … the love of God.
His love is for us. It's a love that covers our sins like a white blanket of freshly fallen snow. It's passionate, it's unending, it's blizzard-like, blowing wildly, falling softly.
When I think about my grandpa and his depth of love for his wife, I think of God's love for us. We are the bride of Christ.  We are chosen, forgiven, and accepted. 
Jesus Christ, born as a child in a manger, starting at the bottom rung of the ladder, not in the presidential suite, moved into the neighborhood and brought a blizzard of love.
What would it be like if we loved people like this?  If we reached out to those near us, next to us, and spoke kindly, cared genuinely, loved deeply. 
Wherever you are today, stop right now.  Let those loved ones know they are loved fiercely, mightily and not just at Valentine's Day…but every day. 
Jn 1:14 "The Word became flesh and moved into the neighborhood."