As I walked down the hill near my childhood home, I tagged along behind my family.  They were all busily taking care of kids and the dog, while making their way down to the park.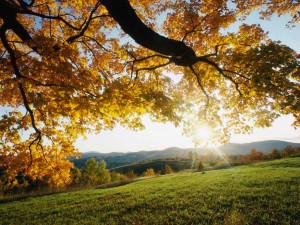 I kicked the fall leaves with my feet and enjoyed the sound they made while crunching underneath my shoes.  It was fall and I was so happy, happy to be with my mother, my children, and my grandchildren.
As I watched my daughters, I thought about how God had wired them so differently, and yet, like many sisters, they had characteristics that were similar.
My middle daughter, Chandra, recently asked me if I believe that God created each person to have the desire to work at a specific job. She wanted to know if the hopes and dreams that she had since she was 3, to become a chiropractor, were placed there from God.  In December, she will be graduating and moving to the chiropractic clinic where she will start out on the journey of healing others.
From the minute our family took over the job of cleaning her grandpa's chiropractic clinic, until today, she has twirled and danced and spun around the room telling us someday she would be a doctor.  She is realizing that dream.
For youngest daughter, Jenessa, from the moment she created art projects at the kitchen table, she professed a love for art.  As she grew older, she volunteered at the church's vacation Bible school in the crafts and art department.  She realized her dream and each week travels to her job at a nearby elementary school, where she serves as an art teacher.
Oldest daughter, Alexis, has always been a helper.  Whatever someone needs, she drives for them, helps them, encourages them, and makes things better.  Alexis is the executive assistant for Small Planet Foods at General Mills.
And me … well, as I walked to the park, I remembered a fall, many years ago, where I walked in the leaves and told God my heart's desire was to bring people closer to God.  I wanted to preach and play music.  I serve as the Founder and Executive Director of a women's ministry that means everything in the world to me … because I get to do those God-given desires, every day of my life!
Yes, I believe God creates us to be something … to become someone … with special gifts and talents.  God is good in providing the very desires of our hearts and matching them up with opportunities to serve Him with that skill.  But without putting those desires into action, without looking for the how to in the journey of our lives, we'll never get past our own front door.
Risk taking isn't always easy.  Finding the motivation to get to where you want to go, isn't always easy.  But asking God for your hopes and dreams to become realities is just a prayer away.  And the path you take and how you work with God to get there is the exciting part of the journey.
Five Steps to Start Being Who You Are Meant to Be:
Discover what's in the doors and closets of your heart, and bring those desires out to the light. (look at the things that you love to do that make you feel fulfilled)
Seek God if this is His will in your life's journey. (Read your Bible and seek God & ask for advice from those who know you best).
Write them down in a journal (Get it on paper and realize those gifts)
Pray, meditate and seek God for how He's going to accomplish this in your life. (Begin making goals and plans help make things happen…is this a job interview? Is this a trip? Is this a tool, computer, class that you must obtain to get started?)
Make tangible steps to attain these desires (make the call, send the email, set up the meeting, take the class, interview for the job, begin the hobby).
"For you are fearfully and wonderfully made."  Psalm 139:14