By:  Kathy A. Weckwerth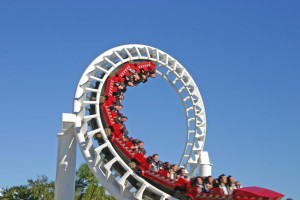 The past few weeks for me have been like a roller coaster ride at Disney World.  Emotions have been at an all-time high, sleep at an all-time low, and patience has been wearing thin.
Our end-of-the-year conferences weren't coming together like they normally do, and Farmer Dean was experiencing chest pains.  I began to feel like I was on a ride that was making me sea sick.
Each morning I would awake, pray, and prepare for the day.  But it was a lot like waiting in line for Thunder Mountain at Disney.  Sometimes we would wait 1.5 hours for the 2 minute ride.  The ride itself isn't as terrifying as some of the newer rides and it's created to look like you're in the old Wild West.  You travel up and down, in and out of mountains.  This means … lots of hills and valleys. 
Life was like the ride.  Between the great news from a daughter regarding good things at work, and a daughter graduating from 8+ years of college and good donations coming in for the new furnace at our church, I was riding high.
And then as I was riding the ride, the low-lows came in.  You know the kind I mean.  The kind where you're  feeling the rush of the wind on your face and everything is looking beautiful from way up high as you're going up higher and higher on the ride.  You don't feel afraid.  You don't feel worried.  You are enjoying the ride.
The low-lows come in as you speed naively to the bottom of the hill … faster and faster until everything becomes a blur.  My husband was feeling chest pains, a large medical bill came in the mail, and the car's brakes gave out.  So much for feeling on top of the hill of bills and finances!
I began to feel my stomach dropping like it does while riding the roller coaster, and I started to feel shaky in my faith.  And then it hit me!  I sat down with my Bible and a big cup of steamy coffee.  I put my favorite fuzzy socks on with the little white bows, and wrestled my big Ralph Lauren gray sweatshirt (the one I've had for 14 years that I bought used at the thrift store) over my head.  I sat with my Bible open and began to read about Peter walking on the water … again I read it …. over and over where he says, "Lord, save me!"  I love those words.  Peter realizes in that brief moment of getting to the low-lows (and literally sinking in the water), he can't do it alone!  He can't do it period.  He needs help from God.  "Lord, save me!"  he cried.
While reading these words, I quieted my heart, prayed Peter's words, closed my eyes and remembered a conversation with a seven year old, from some twelve years ago.  I called for her mother, but she answered the phone.   The little girl, Julia, was never much of a talker, but on that day, she was chatting up a storm!
I asked Julia if she had fun on her trip to Disney World, to which  she replied, "It was the best ever!"
"What was your favorite ride?"  I questioned.
"Thunder Mountain."  she replied.  "First, I thought I was going to throw up."
"Were you scared?"  I asked.
"Oh, no!" she answered.  "My daddy was riding right next to me."
I smiled on this cold winter's morning as I realized that riding the ride is what makes up the days and nights of our lives.  These past few months have been trying, filled with many moments that were moving fast and headed in a downward spiral, but I take comfort now.  I take comfort in knowing that although I might be on the ride of my life, my Daddy, my dear Heavenly Father is riding right next to me." 
Today I realized the basic truth … we're all really on a ride … the roller coaster of life.  it just seems a lot safer, a lot more comforting when we embrace the faith and assurance that our daddy is riding right next to us.
Embrace today, whatever it may bring.  It all makes up the ride of your life.
Psalm 37:23-24, "If the Lord is pleased with the way a man lives,   He makes his steps secure.  Even if the man trips, he won't fall.    The Lord's hand takes good care of him."