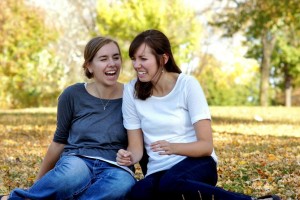 While scanning through some of my emails, I stopped in my tracks as I read one from a large church that said, "Bob Smith, Encouragement Pastor." I was so excited!  I thought, what a brilliant concept.  Some church finally gets it!  Some staff is leading a team where one person is focused on something that life in 2015 has forgotten … encouragement!
Today's hustle and bustle keeps us moving.  With our new phones and technology, we can connect with people instantly all over the world.  And yet, while Farmer Dean and I were enjoying a lovely lunch at Granite City this weekend, I looked around to see most of the people setting next to us were on their phones.  No one was talking.  There was no encouragement from watching people sitting glued to their cell phones.
I said to Farmer Dean, "Let's talk!"  We launched into a two hour conversation about our kids and grandkids, our farm, our church, our future plans, and our lunch became delightfully encouraging.  Great food and good conversation helped  Farmer Dean and I to both feel like we were in a place where although discouragement was trying to settle in, we were fighting back.
The warm sunshine was beating down on our booth, and we laughed, joked, and encouraged one another.  Farmer Dean told me I was a great speaker, a good mom, and fun to be with.  I told him he was strong (that's why he's always moving and lifting things for me), he was gentle, and he was a super grandpa!
By the time our day was finished, we were not only ready for another week, but once again, we were propelled onto the path of hope.  The word encouragement  means "support of a kind that inspires confidence and a will to continue or develop."  What does that mean?  Encouragement produces confidence and a desire to go on.  It's the fuel in the engine that keeps us going.
Where do we find encouragement?  Sometimes God will meet us in a wide open space and send some friend to deliver gracious words that fill us up.  Once and awhile it comes seeping into our souls when we feel happy about something we made or something we said or heard. Very often, it comes directly from scripture.   I love this verse specifically:
"The Lord appeared to us in the past, saying: "I have loved you with an everlasting love; I have drawn you with unfailing kindness." Jeremiah 31:3.
I'm encouraged just knowing God loves me and cares to draw me in with His kindness.
Encouragement can come from a quiet walk in nature and seeing the deep lush of green grass or the puffy white billowing clouds.  It can come from listening to your daughter talk about school or your grandson's giggle.  It can come from a long restful nap or a bite of a chocolate brownie with hot steaming coffee.
Mostly, what I know about encouragement is that we all need it and we can certainly take time in our days and nights to reach out and encourage others/callout] with simple words like:
way to go
I love you
you're doing great
did you know how good you would be at this
you are so appreciated
you make my life better
Make the most of your days and be encouraged … and in turn, encourage others.
Whether you're an official encouragement pastor or simply an encouraging mother … just do it!  Encourage one another!
"Therefore encourage one another and build each other up, just as in fact you are doing." I Thessalonians 5:11