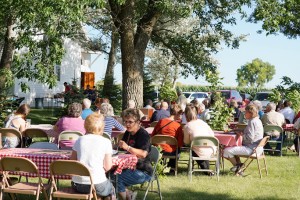 I thought I knew what to expect as my dad and I drove into the tiny church parking lot in our boat-like Suburban. I'd been here last year, this annual pie social and hymn sing. I would get to skulk around being a fly on the wall and take photos of people enjoying themselves and singing from lovely old hymnals in a restored church. This year, the event even headlined a local jazz combo, one I'd known and loved in high school. Jazz music, hymns, and taking pictures? Yes, please.In all honesty, though, I was tired. I'd spent the day going through the old clothes and school notebooks and grade school relics in my room, and that after returning from a two-week vacation with my family. It was wonderful, don't get me wrong, but a whirlwind.I spent the evening bopping along to wonderful jazz charts, many of which I'd played in both high school and college jazz ensembles. I enjoyed the vintage radios and records that served as table decorations. I sang along with hymns that I'd grown up with, convinced they would never go out of style. I eavesdropped on countless conversations between old friends and new friends, smiling at the laughter that rang through the grove.
At the end of the evening, when most of the guests had gone home and the chairs were being packed up, I headed back to the Suburban to put my camera away. The ministry director stopped me and thanked me for coming.
"Do you know how good you are at this?" she asked me. "You are. There are some people who can see things, and then there are people who can see things. That's you."
If anything could restore this weary traveler, overwhelmed with hundreds of terrible vacation photos, it was that simple, kind-hearted compliment.
As I came back from putting my camera down, strains of piano music and exuberant voices rang from the small church and into the grove. I smiled to myself. Jazz and hymns. Kindness and an overflowing love for Jesus. Some things are just classic.