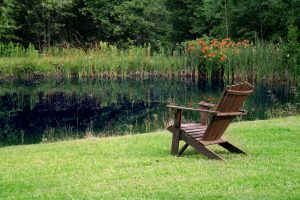 1.Stop. Breathe.  Think.  ~  Whenever pressures rise to the top, we tend to react immediately.  This creates poor judgment and a bad result.
If we stop,  we will be able to take a moment to allow everything to take perspective.
If we breathe– we will slow our heart rate down and allow our body to maintain a regular breathing pattern.  This will allow our body to work with our mind to help create solutions.
If we think~ we make time to process and think through solutions, it will create much better solutions to our issues.
Get eight hours of sleep~ We cannot deal with the typical pressures of life when we're working off of little amounts of sleep. To feel well-balanced and make healthy decisions, we need our mind and body to be well-rested.
Step away from the stress, yes, just let it sit there, and completely tune it out. Take a walk, take a nap, watch an old movie, read something fun.  You can't completely ignore it and forget about dealing with it.  It only gets worse!  But walking away from what's happening for a short amount of time gives you fresh perspective.
Prioritize~ A lot of stress comes from a lack of focus, disorganization, and an unwillingness to make life style changes. For example, if you have several jobs and many deadlines, this creates stress.  Or perhaps you have over-volunteered your children for too many extracurricular activities.  Sit down, make notes, and prioritize.  Have a family meeting and get everyone on board for what's creating the stress.
Ask for help~ Often times we try to go it alone because the world honors workaholics. If we think that the pressures and stresses will allow us to move up in the world of respect, we might embrace the pressure of stress and keep working through it.  We feel better about ourselves if we can handle it alone.  But that's a lie from the enemy!  We need God's help and we need each other.  Next time the stress begins to weigh heavily, reach out and ask for help.  Even if its just a prayer to God or from a friend.
Stress is inevitable and each one of us deals with it on a daily basis.  Stress can have its benefits like good stress will force us to have deadlines and challenge us to rise to meet them.  
Stress can also help us to develop strong characteristics like a faith-filled spirit because we know we can't go it alone.
Balancing our emotions and remaining calm are the most important things to remember, next time a boat load of stress comes your way!
Let God walk ahead of you.  Pray and commit to Him that He's in charge and you need help.  God's got this!
"Do not conform anymore to the pattern of this world, but be transformed by the renewing of your mind.  Then you will be able to test and approve what God's will is-His good, pleasing and perfect will."  Romans 12:2