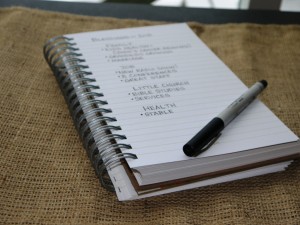 The Blessings Journal
Kathy A. Weckwerth
Risk taking isn't always easy. Finding the motivation to get to where you want to go, isn't always easy. But asking God for your hopes and dreams to become realities, is just a prayer away. And how you work with God to get there, is the exciting part of the journey. Only YOU can do it.
This month marks the start of my 8th year as Founder and Executive Director of Best Life Ministries. I loved and lived in Worship Land for over 20 years, but God called me out to blaze a different trail. There are days that I feel confident, and days when I wish I knew what I was doing. But the days where I see God's pleasure … those keep me going.
But God's revealed something to me this past month.  He's reminded me over and over that we need to do the following:
Listen for His voice.
Follow His lead.
Look straight ahead at the path He's forged.
Put on our hiking boots and get going.
Fear nothing.
Be thankful.
As I've been following steps 1-5, I realized I didn't take time to be thankful.  I was so purpose-filled in praying for others and myself on this path, that I never seem to stop and make time to thank God for all of the blessings along the journey!
And I determined this year that my main goal will be to be thank-filled.  Every day.  In every way.  For everything.  Not just what I asked for or what I thought I needed.  But for all of God's goodness … be it ever so small or ever so big.
I pulled out an old journal that had never been used, and started writing God's blessings to me.  A list of the past year's gifts for my journey.  The tools He gave me, the people He sent my way, the opportunities I had, and the challenges I met head-on.  Let me encourage you today to take steps to put on your hiking boots and listen for God's voice.   Make your own blessings journal.  Hit the path of your life and start looking forward … but stop and thank Him.  Intermittently.  Between all of the good and the bad.
I am determined to start a tradition of a blessing journal.  Care to join me?