Grand Marais, MN (Lake Superior)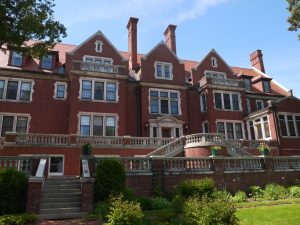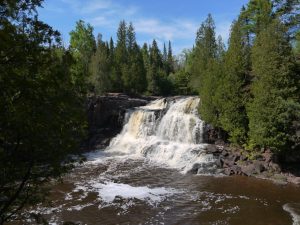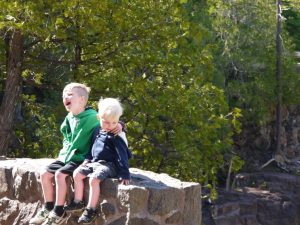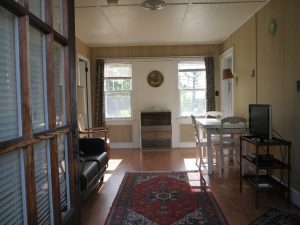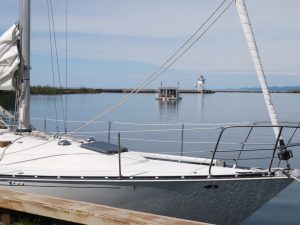 Heading into Duluth you will want to stop at Skyline Parkway and get the view of the city coming in.  You'll see fabulous, breathtaking views of Lake Superior, along with a casual visit from deer or eagles. Optional:  Unpack a picnic lunch and sit among the shaded trees at a table and enjoy the brisk air.   -FREE
Once you're in Duluth, if you don't want a picnic, you can head down to Canal Parkway and have lunch at Canal Park Brewery.  We enjoyed the house potato chips and sour cream, hummus plate, the classic burger and the Brew Company Cobb salad.  (Prices range from 8.99-14.99).
Take time to walk down by the lake and enjoy the view.
Next to the lake is the William A. Irvin Ore Boat Museum  Check out this 1 hour tour takes you through the freighter.  See the cargo hold, dining room and bedrooms where wealthy people traveled on the boat. Gift shop is fun.  ($12.00 adults, 10 & under are FREE).
Once you head downtown to an older part of Duluth, you can visit the GlennSheen Mansion.  Enjoy the beauty of this enormous 1800's home, that cost what would have been 2 million dollars in today's economy. (We took the 1.5 hour, Full Mansion Tour for $26.00 a ticket adult, $15 for child).
Take the Scenic Route to Two Harbors.  This takes you close to the lake so you can stop at overlooks and enjoy!  It is 45 minutes from Duluth to Two Harbors.
Once you get to Two Harbors, pop in for a blizzard at the Dairy Queen and take it down the street to enjoy along the lakeside.  (small blizzard $3.69).
Make your way up the road and visit Split Rock Lighthouse.  You'll enjoy the yesteryears of when lighthouses informed sailors where the shore was located.  It's stunning.  FREE outside.  ($10.00 adults, $6.00 17 yrs and younger for tour inside)
Fifteen more miles up the road and you will see Gooseberry Falls State Park.  Turn right into the park and veer to the left.  You will park your car and walk a short ways to the falls.  You can enjoy park benches, birds, and the sound of the waterfall!  FREE
Now you will have 1.5 hours left on your journey to Grand Marais.  Take time to stop along the way at the little towns and lookouts.  Enjoy the breeze off the water, make time for snacks, tea, and pop.
Once you drive into Grand Marais, you will turn left on 5th Ave and go up half a block to Russell's Cottages.  We stayed in cabins #1 and #2, that were probably built in the 1940s.  In each unit, you find 2 bedrooms, full kitchen, small living room, bath, and the cabins are small but quaint.  Full size deck (with table and 4 chairs, charcoal grill included) that looks over the lake and lighthouse.  ($99.00 a night plus taxes). 
When you wake up, feel free to make yourself a nice little breakfast in your own small kitchen and eat on your deck, or you can head downtown Grand Marais to the Java Moose coffee shop and grab a mocha.  $3.80.  Make a quick stop into the World's Best Donuts Shop for a couple of sugary donuts $2.00 for 2 and head down to the waterfront.  Spend a half hour walking out to the lighthouse (wear good shoes because it can be slippery).
20 minutes up the road (north), you'll head to Judge C R Magney State Park.  Head onto the trails that will take you right to the Devil's Kettle.  This is a stunning waterfall that is rumored to have no bottom and stories are told that Indians sent warriors down to try to find where the falls lands, but they never returned.  Be careful to take your time, bring along a bottle of water, and prepare yourself for about 150 steep steps that go down to the falls (and then back up!).  FREE.
Take time to visit the Nanaboujou Lodge & Restaurant, restored from the 1920s.   During childhood year's, a sweet memory was heading to the solarium for the afternoon tea (includes cucumber and smoked turkey sandwiches, scones, cookies and a pot of tea).  ( $15 a person).  They also offer a lovely Sunday brunch which includes waffles, granola, cinnamon rolls, blueberry wild rice sausage, fruit, bacon, eggs, pastries, salmon, potatoes, and quiche. ($21 per person adult, 10 & under $11.15).
For supper, enjoy a yummy pizza from the ever-famous Sven and Ole's Pizzeria.  (They offer gluten free as well!) cost varies     ($13.00)
If you'd like a little bit more fancy food, walk the half block down from your cabin to the Harbor House Grill Restaurant.  We sat on the front deck across the street from Lake Superior, underneath a lovely large umbrella and enjoyed the Canadian Walleye ($22) and the Spinach and Feta Salad ($8.95). (kids meals available, but costs to take food home & to split orders).
Downtown offers little shops like the Lake Superior Trading Post, the old-time 5 and 10 cent store Joynes Ben Franklin, and Beth's Fudge and Gifts (pick up a slab of delicious fudge and walk down by the lake to enjoy!)
You can also take a day and travel the Gunflint Trail.  We've spotted bear, moose, and deer along our journey.  You can park at the top of the hill (from Russell's) and take some 2 mile hikes.  (you'll have to carry babies and little children may get tired out).
Life is short! Enjoy!!