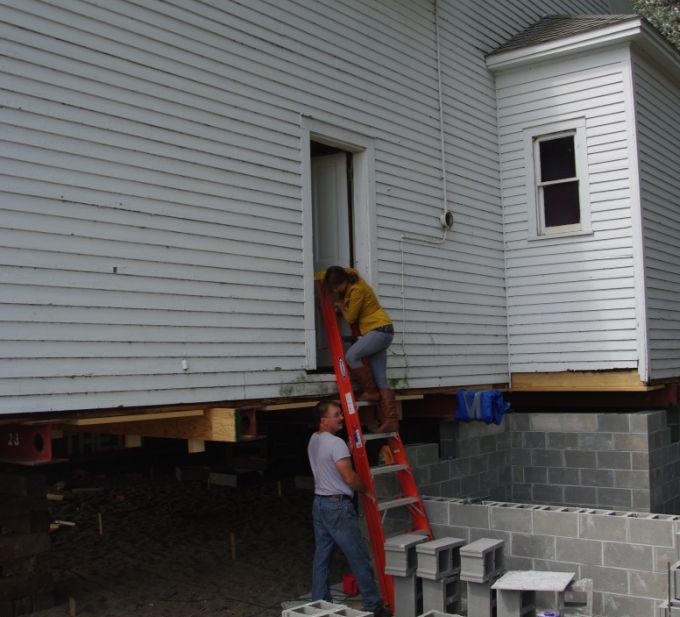 I remember four years ago when our little 1900's church was moved to the south grove at our farm.  It was a time of great excitement, deep joy, and happy anticipation.
As a few trees were cleared, grounds were measured, cement blocks were put into place and we awaited the arrival of the beautiful old building.
The land was flat and empty towards the main road, and nothing seemed to grow there.  Farmer Dean planted trees, shrubs, plants, and flowers to no avail.  Nothing worked for him.  Nothing would grow.
I often wondered why it was this way.  Dean explained to me that in the late 1800s  early 1900s, a family owned a big old house there.  (Where in the world did it go because I think I would have loved it!).  Apparently farmers push down buildings, barns, and outbuildings when they don't have a need for them, or when they would rather have land for crops, or when the buildings are in disrepair.
Because of the old rubble everywhere, Dean didn't think anything was taking root in the ground. He told me, "Where nothing would grow, we'll plant a church."  And so we did.
The trek from rural Murdock, MN took approximately 6.5 hours and was filled with a few mild scares, but nothing detrimental.  We followed along in our van behind the church for awhile, and then set out for home to prepare for the arrival.
Once the church arrived and was placed on its new foundation, we had a couple of months to wait until we could get the ground pushed back around the building and get some steps in at the front of the building.  Everything moved pretty slowly for me.
During this time, HGTV's show, "Massive Moves" out of Canada had been following us (along with Jason Davis On the Road and PBS' Postcards).  Two kind gents from England, full of life, laughter, and awesome accents were by our side for approximately three weeks straight.  We lived, ate, and breathed the preparation for the move, the going away service, and then the actual move.
These young camera men and producers returned from England six weeks later to film again.  Dean always fretted because we didn't have much time to work on any of our restoration process, but nevertheless, they arrived and needed to finish their show.
As Dean and the crew climbed up an old rickety ladder into the back door of the church, I found out something about myself I didn't know.  I was scared.  They kept saying, "Come on, let's go."  Impatient as the three of them were, it did nothing to encourage me along.
After a few steps up on the ladder rungs, I felt the ladder shimmying back and forth.  I was on shaky ground.  Not on ground at all, and I felt unsafe.
They kept shouting to hurry up.  I kept looking down, then up, and then I stopped.  I couldn't be in the middle.  I had to have a safe foothold somewhere and it wasn't on the ladder.
With each step, I shook … literally.
When I finally pressed on and made it into the church, I determined to live there until the steps arrived.  I could sleep in the pews, right?
But, alas, I had to return back down to the ground and on the shaky ladder I climbed and made it back down with the pressuring and cheering of the men.
This story reminds me of life lately.  The pressures of our peers.  The statements of the press.  The thrashing of the political arena.  None have felt safe.  No mere words that men or women spout off make me feel like I've landed on steady ground.
And just like being on the wobbly ladder, I remembered something:  I cannot trust the world, just as I couldn't trust an old rickety ladder.  I cannot trust the words of mere mortals, their feelings and emotions, or their bending of truth.
"Thus says the Lord: "Cursed is the man who trusts in man and makes flesh his strength, whose heart turns away from the Lord." Jeremiah 17:5
Instead, there is only One Source for solid ground.  God the Father.  God the Son.  God the Holy Spirit.
I will declare they are my firm foundation.  And right now, I'm tired of standing on a ladder and feeling wobbly.
Thank you, God, for being a solid foundation.  I'll stand before you thanking and praising.
"My feet stand on level ground; in the great congregation I will praise the Lord."  Psalm 26:12