Movie Review:  The Shack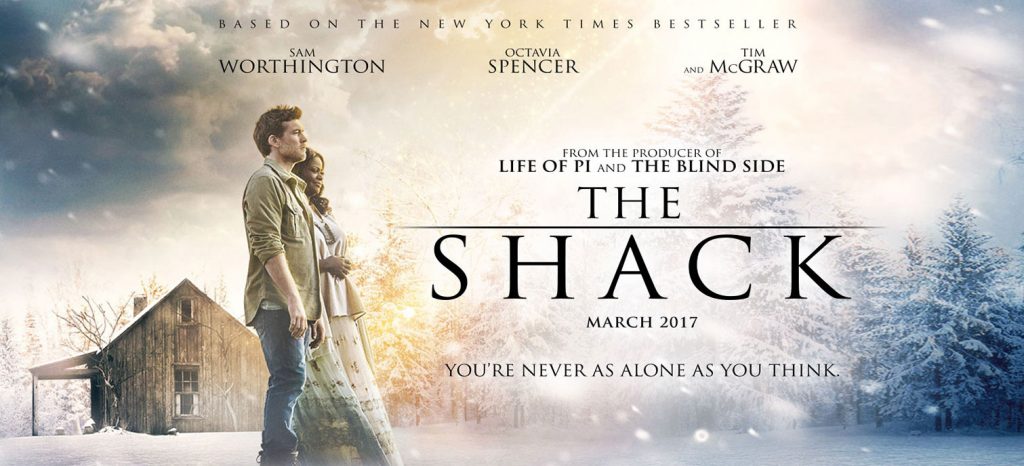 Rated: PG13
Running time: 2 hours 12 minutes
When Mack, a typical suburban husband and father of three played by Sam Worthington, is first introduced to us, we see an average man without a strong connection to faith, prayer, or spending time with God.
We soon find out that his wife Nan, played by Radha Mitchell, is the one who is close to God.  Close enough to refer to Him as her old friend, Papa.
The story unfolds as Mack takes his three kids to the lake for a short trip.  When his two oldest kids capsize their canoe, Mack jumps in to the rescue, leaving his youngest daughter, Missy, played by Amelie Eve, sitting at the picnic table alone.  She is kidnapped and eventually found dead in a shack in the mountains.
Devastated, the family tries to go on, but for Mack, it's almost impossible.
One snowy day, Mack is alone and shoveling the driveway, and opens the mailbox to find a note inviting him to the shack where the murder took place.  It's signed "Papa."
Mack's neighbor Willie, played by Tim McGraw, wants to join him, but Mack takes his truck and goes alone.
When he arrives at the shack, he is on a quest for truth, but he finds so much more.  Upon arrival, Mack is introduced to Papa, played by Octavia Spencer, Jesus, played by Avraham Aviv Alush, and the Holy Spirit, played by Sumire Matsubara.
When the book version of The Shack came out in 2007, it met with strong opposition from Christians everywhere.  We wondered if the same questions would be asked, the same critics still ready to open fire.  And they did. And they were.
We heard the following questions:  Why was God portrayed as a middle-aged black woman, why was the Holy Spirit a young, tall Asian woman, and
would God really love Neil Young's music?  Would God cook, serve dinner, dance in the kitchen and bake bread?
Aside from all of those questions, which if you follow the story line it reveals the answers, there lies a very deep plethora of information about God, the Trinity, forgiveness, salvation and why bad things happen to good people.
Bottom Line:  We found the story to be riveting.  It laid the foundation for everyday life with all of its troubles, and connected it to a very real Trinity:  a loving God, a sacrificial Son, and a comforting Holy Spirit.  Mack's journey and meeting with God in the trinity form, changed his life and helped him to understand forgiveness and true healing.  Who doesn't need to learn more about those things?  The Shack is a great movie to see.  Caution for family viewing because of the seriousness of the insinuated violent attack on the young daughter.